Satispay marks Black Friday as an opportunity to support local businesses
Luxembourg, 25 November 2021 – Satispay, the innovative bank-account enabled mobile payment solution completely independent from credit/debit card networks, wants to support local retailers and consumers this Black Friday weekend. That is why the fintech offers consumers a 50% instant cashback on all purchases made between Friday November 26th and Sunday November 28th in more than 450 physical stores and outlets that accept payments with the Satispay-app. Retailers will, however, receive the full amount of the purchase made.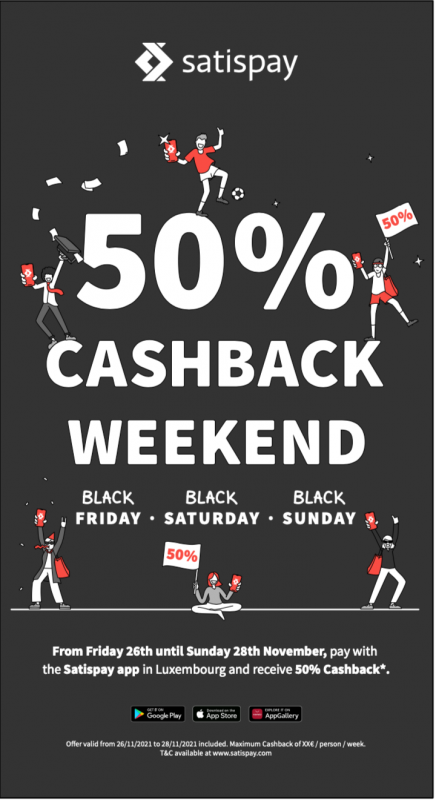 Satispay launches the initiative to support and boost the sales of smaller independent merchants in particular, as they have suffered most from the lockdown earlier this year. The 50% instant cashback, with a maximum total of 50 euros throughout the weekend, will not only allow them to attract customers to their businesses and boost sales. Since the cashback is fully guaranteed by Satispay and all merchants hence receive the full amount for the products and services sold, it will also enable them to generate additional revenue.
« We are very happy to launch this special Black Friday campaign as it will boost sales for our Luxembourgish merchants and provide a significant discount to consumers at the same time," says Côme de Courcelles, Marketing manager of Satispay in Luxembourg. "Black Friday is traditionally big for online purchases and mainly claimed by big retailers, our campaign will now also enable smaller businesses to benefit, such as restaurants, bakeries, perfume shops etc. And that a whole weekend long. At the same time, it will encourage customers to support local merchants ! »
Satispay's Black Friday campaign comes on top of another cashback campaign the fintech launched in Luxembourg in October. That campaign offers users a 30% Cashback on all purchases made every Friday, Saturday & Sunday until the end of January 2022.
Being the leading mobile payments solution in Italy, Satispay wants to become the European market leader in digital payment services. The company launched its innovative payment app in Luxembourg in April 2020. The fintech has proven to be a supportive and solid partner for merchants, resulting in a network of more than 450 Luxembourg businesses since its launch. The app works with ANY bank account, ANY mobile operator and ANY smartphone. Satispay users can pay in affiliated shops and easily exchange money with friends.
Over 450 merchants already in Luxembourg
Auchan Retail was the first big retailer in Luxembourg to choose Satispay. Since then many more followed. Today, Satispay has over 450 merchants signed up in the country including Paris8, Ferber, The MansoGroup, Concept+Partners, Urban Bar, Bazaar Bar and Restaurant, Bistrot Beim Renert, Maestri Della Pasta, Häagen-Dazs, Kaempff-Kholer Boutiques and Restaurants.
Communiqué par Satispay
Photos: ©Satispay